---
Sunday, August 14, 2022
Sebastopol Center For the Arts Patio Series
2:00 pm
282 S. High Street, Sebastopol, 2-4 pm. On the North Patio.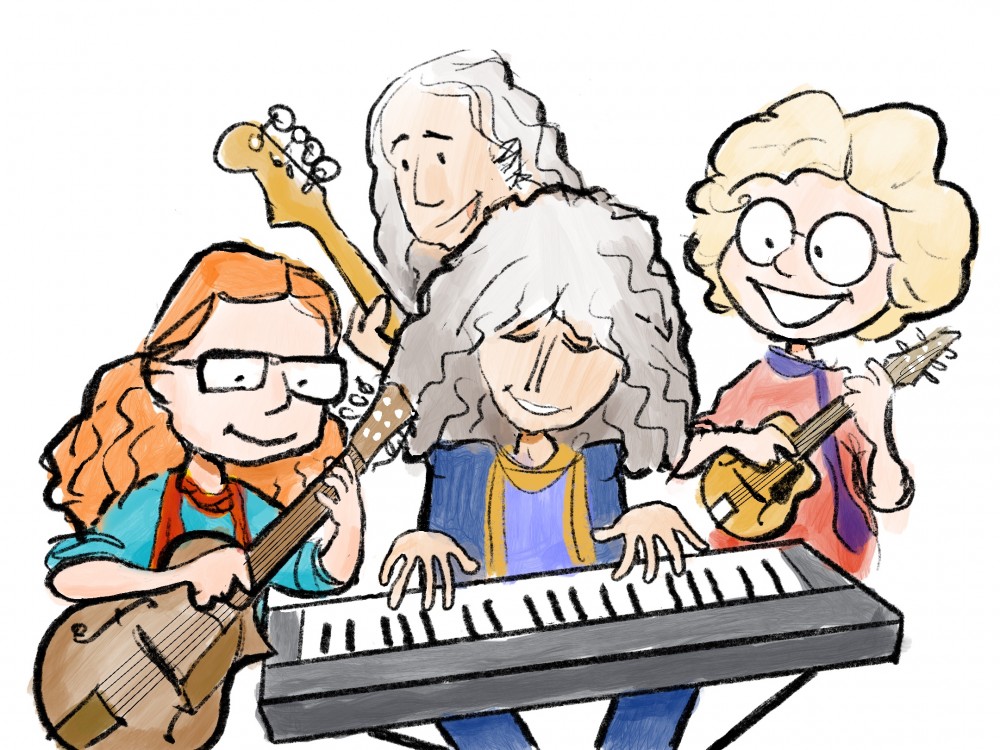 Swing Fling is delighted to perform at the return of the Sebastopol Center for the Arts Patio Concert Series.
See you there for some summer fun!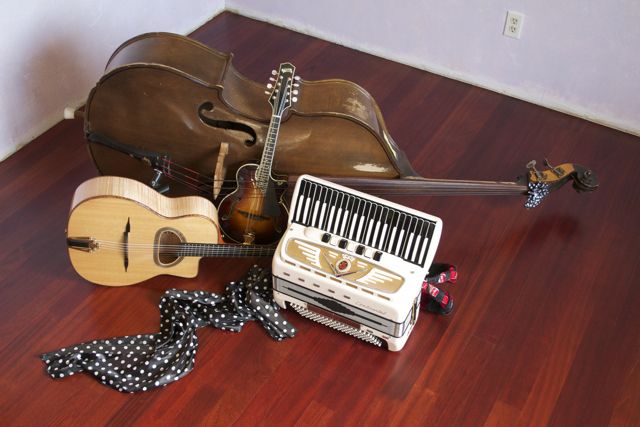 Past Gigs
---
Sunday, July 31, 2022
10:30 am
Haute Flash Quartet is no more. Introducing Swing Fling, at the Sebastopol Farmer's Market
Dear friends and kind supporters,
The Haute Flash Quartet hiatus is so extended that we've made the difficult decision to declare the band defunct.  However, the world still turns and we keep making music, because we can't help it.
Swing Fling continues on with Jan, Karol, Rhonda, and bassist and vocalist extraordinaire Steven Radice.  We play some Gypsy Swing along with a variety of standards, obscure old songs, and whatever else strikes our fancy.  It's fun and uplifting music that we love to play and hope you love to hear.
We have a band FaceBook band page at the link www.facebook.com/Swing-Fling.  Please like and follow us! In addition, we're working on transitioning our Haute Flash Quartet newsletter to Swing Fling.  In the future, we intend to send you periodic notices about that band's upcoming gigs, just as we did for the Haute Flash Quartet.
Thank you all for your support over this past decade.  Let's keep on getting out there and having fun, with a soundtrack!
Please check out Swing Fling  July 31st, from 10:30-12:30 at the Sebastopol Farmer's Market.
---
Saturday, April 30, 2022
1:00 pm
Swing Fling at A Spring American String Music Festival, Arlene Francis Center, Santa Rosa
RESCHEDULED from January 29, 2022 to April 30, 2022
Arlene Francis Center, 99 6th Ave., Santa Rosa, the festival is from 1-4pm, Swing Fling plays from 2-3pm
A benefit for the Arlene Francis Center, and co-sponsored by the California Bluegrass Association, the headliner is the Bloomfield Bluegrass Band and the opening act is the T J Band.  The nonprofit Arlene Francis Center provides a space for community groups to gather, including musicians.  We in the band strongly support their efforts!
Admission $15 for those over 15, free for children.  Refreshments will be available.
Swing Fling consists of Haute Flash Quartet alumnae Jan Kahdeman on guitar, Karol Kopley on keyboard and Rhonda Berney on mandolin joined by Steven Radice on bass.
Proof of Covid vaccination required, masking encouraged at this point…
More info available  closer to the event at https://www.arlenefranciscenter.org/calendar
---
Sunday, April 3, 2022
10:30 am
Swing Fling at the Sebastopol Farmer's Market
Sebastopol Plaza, Weeks Way, Sebastopol, 10:30 am-12:30 pm
Check out Swing Fling's music at our hometown farmer's market!  Jan, Karol, Rhonda and Steven will lay some Haute Flash Quartet tunes that you know and love, but also newer and older songs for your added enjoyment.
---
Saturday, January 1, 2022
12:01 am
Haute Flash Quartet hiatus for 2021
If you are reading this you probably want to know when and where we are playing.  We don't have an answer, but thank you for following us!
For a number of reasons, the band will be taking a break for all of 2021 and reevaluate our status in January 2022.
If you miss us, please enjoy our videos posted on this site and YouTube.  You can be sure that we miss you!
---
Saturday, December 11, 2021
12:00 pm
Swing Fling at Petaluma area Holiday Art Sale, Haute Flash Quartet still on hiatus
242 Bessie Mae Lane, Petaluma, art show 10-4, music 12-2
Though the Haute Flash Quartet continues on hiatus, Jan, Karol and Rhonda have formed a new swing band with extraordinary musician Steven Radice.  We are Swing Fling and we play some Gypsy Swing along with swing pop tunes and standards.  The lineup has Jan on guitar, Karol on electric keyboards, Rhonda on mandolin and 5 string Jazzbo, and Steven on bass guitar.
This event is the great artist Wendy Brayton's Holiday Art Sale, at her studio.  Several other artists will also present their creations for sale.  Shop and swing in style with fresh baked cookies and local gifts-in-waiting, plus you can hear the new band!
---
Thursday, December 31, 2020
11:59 pm
No more performances for a while… Stay safe until we can meet again!
The Haute Flash Quartet had hoped that the worst was over and that we would be performing again soon.  It now appears that it will be months before it will be safe for us to play for live audiences so we will wait…
Here's hoping for a better year in 2021!
---
Thursday, September 10, 2020
4:20 pm
Lagunitas Outdoor Beer Sanctuary, Petaluma- CANCELLED!!! Updated 9/10/20
1280 N McDowell Blvd, Petaluma. 4:20-7:30 pm
This is our type of place!  Lagunitas has made many social distancing changes to keep us all safe while we have fun.  It's a big outside area where folks can distance, eat, drink, and listen to some swinging music.  Steven Radice will join us on bass.
First COVID, now SMOKE!  The air quality is BAD.  You probably don't want to breathe it and we don't want to play and sing in it.  Lagunitas graciously is allowing us to late cancel.

We will post when rescheduled.
---
Saturday, August 22, 2020
8:30 am
Healdsburg Farmer's Market- CANCELLED!!!
West Plaza Parking Lot, North and Vine Streets, one block west of the Plaza. 8:30-Noon.
We WERE very happy to return to the Healdsburg Farmer's Market!  Unfortunately, the California Department of Health announced new rules recentlyt prohibiting live music, and the Sonoma Health Department informed the Farmer's Markets August 13th.
---
Tuesday, June 30, 2020
9:00 am
Future Tentative Events as of May 4, 2020
We miss you!  And we miss each other!  Keep safe, and we hope to see you when live music resumes.
Here are are our upcoming scheduled events:
Friday May 15th, Main Street Bistro, Guerneville- suspect will be cancelled due to the pandemic
*Tuesday, June 30th, Healdsburg Farmer's Market- we are hopeful since this is outdoors…*
Sunday, July 12th, Sebastopol Center for the Arts Patio Series- the whole Patio series including this date has been cancelled
*Saturday, August 22nd, Healdsburg Farmer's Market*
---
Friday, April 10, 2020
7:00 pm
Aqus Cafe, Petaluma- CANCELLED!
189 H Street, Petaluma, 7-9 pm
Aqus is closed due to the pandemic, and we are at home, practicing our instruments.  Stay safe!  We will reschedule when we can all stay safe together.