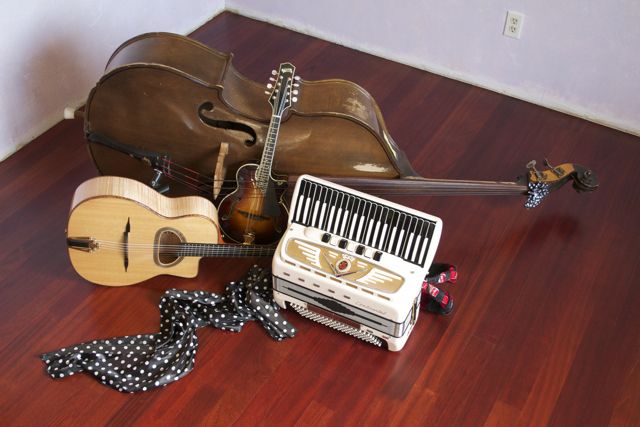 Past Gigs
---
Thursday, September 10, 2020
4:20 pm
Lagunitas Outdoor Beer Sanctuary, Petaluma- CANCELLED!!! Updated 9/10/20
1280 N McDowell Blvd, Petaluma. 4:20-7:30 pm
This is our type of place!  Lagunitas has made many social distancing changes to keep us all safe while we have fun.  It's a big outside area where folks can distance, eat, drink, and listen to some swinging music.  Steven Radice will join us on bass.
First COVID, now SMOKE!  The air quality is BAD.  You probably don't want to breathe it and we don't want to play and sing in it.  Lagunitas graciously is allowing us to late cancel.

We will post when rescheduled.
---
Saturday, August 22, 2020
8:30 am
Healdsburg Farmer's Market- CANCELLED!!!
West Plaza Parking Lot, North and Vine Streets, one block west of the Plaza. 8:30-Noon.
We WERE very happy to return to the Healdsburg Farmer's Market!  Unfortunately, the California Department of Health announced new rules recentlyt prohibiting live music, and the Sonoma Health Department informed the Farmer's Markets August 13th.
---
Tuesday, June 30, 2020
9:00 am
Future Tentative Events as of May 4, 2020
We miss you!  And we miss each other!  Keep safe, and we hope to see you when live music resumes.
Here are are our upcoming scheduled events:
Friday May 15th, Main Street Bistro, Guerneville- suspect will be cancelled due to the pandemic
*Tuesday, June 30th, Healdsburg Farmer's Market- we are hopeful since this is outdoors…*
Sunday, July 12th, Sebastopol Center for the Arts Patio Series- the whole Patio series including this date has been cancelled
*Saturday, August 22nd, Healdsburg Farmer's Market*
---
Friday, April 10, 2020
7:00 pm
Aqus Cafe, Petaluma- CANCELLED!
189 H Street, Petaluma, 7-9 pm
Aqus is closed due to the pandemic, and we are at home, practicing our instruments.  Stay safe!  We will reschedule when we can all stay safe together.
---
Thursday, March 12, 2020
5:00 pm
Bluewater Bistro, Bodega Bay
21301 Heron Dr., Bodega Bay, 5-8 pm
Join us for great views of the bay, fine food, and of course, fun music!
---
Sunday, January 26, 2020
5:00 pm
Soul Cafe, Forestville Methodist Church, Forestville
6550 Covey Rd, Forestville, 5-6:30 pm.
We are honored to play at the January edition of  the Forestville Methodist Church's community nourishing dinner, Soul Cafe.  At this time we do not yet know which local organization will be the fundraising recipient, but we do know that there is no cover charge, that delicious soup and salad will be served for a suggested donation of $10 ($5 for kids), and that additional donations are welcome.  More info and links will be posted here when available.
---
Thursday, January 16, 2020
6:00 pm
William Tell House, Tomales, as trio
26955 Hwy 1, Tomales, 6-8:30 pm
We are happy to return to this cozy coastal inn, though it is so cozy that only three of us can fit inside! Tami on bass gets the night off. The rest of us will entertain you while you dine on gourmet bar bites washed down with fine drinks.
https://www.williamtellhouse.com/
---
Friday, January 3, 2020
7:00 pm
Aqus Cafe, Petaluma
189 H Street, Petaluma, 7-9 pm
We have been asked when we will return to Petaluma- this is it!  So start the new year right and come out for a tasty bite and something to drink, to listen, and to say hello!
https://aqus.com/pages/aquscafe/
---
Friday, December 13, 2019
6:30 pm
Main Street Bistro, Guerneville
16280 Main street, Guerneville, 6:30-10:00 pm
We return to the river's best drink, dinner and music venue!
---
Saturday, December 7, 2019
7:00 pm
Sirens Prohibition Ball, Sebastopol
Subud Hall, 234 Hutchins Ave., Sebastopol, the event is from 7pm-midnight, we play from about 8:45 to 9:45pm.
Sirens Studio is putting on a prohibiton era costume gala and we get to be part of the fun! Welcome to the grand opening of The Cat's Pajamas, a new speakeasy! Food, drink and other entertainment is also promised. Attendees should come in 1920's (prohibition era) attire. What will the Haute Flash Quartet wear?
The cost is $40 per person or $60 per couple. Tickets available at https://wintergala2019.brownpapertickets.com/
For more information, check out https://www.sirensstudio.org/shows-workshops or https://www.facebook.com/events/455626791745916/?active_tab=about